NUMIX EURO : Euro Coins Software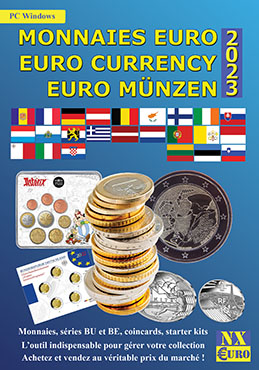 Description
Prix

NUMIX EURO 2023 Download version


New version of February 7, 2023 with update from March, 2




29,90 €
THE ONLY SOFTWARE TO ESTIMATE YOUR EURO COLLECTION

An innovation that is sure to surprise you ...

A unique database, abundantly illustrated with realistic prices and powerful collection management features, NumiX Euro 2023 is finally available for download with 860 new coins and coin sets, and new reports.
More than 12 800 coins!
Warning : In trial version, some countries and some face values are not available, thumbnail view is slow at startup, and collection symbols don't appear. Buy the license to access all coins and fast!
Fonctionne en français, en anglais et en allemand : Télécharger (En savoir plus)
Werke auf Französisch, Englisch und Deutsch : Herunterladen (Weiterlesen)
Works in French, English and German : Download
NumiX Euro is both a generous catalog of Euro coins and a pleasant companion to manage your collection.
It lists all the circulation Euro coins and all the gold and silver commemorative coins from all eurozone, as well as starter kits, BU and Proof sets since 1999 to 2022 and contains a lot of details for each coin.
NumiX Euro illustrates 12 821 coins in different presentations.
All NumiX Euro prices are true market prices. The average is calculated from several million sales in major auction websites, sales from relevant online shops, online shopping portals, as well as price lists and catalogues from retailers.

NumiX Euro has many features to easily manage your collection.
Thumbnails view is directly displayed when NumiX Euro is started. It displays all of the 12 821 coins with essential informations such as country, year, price, title and picture.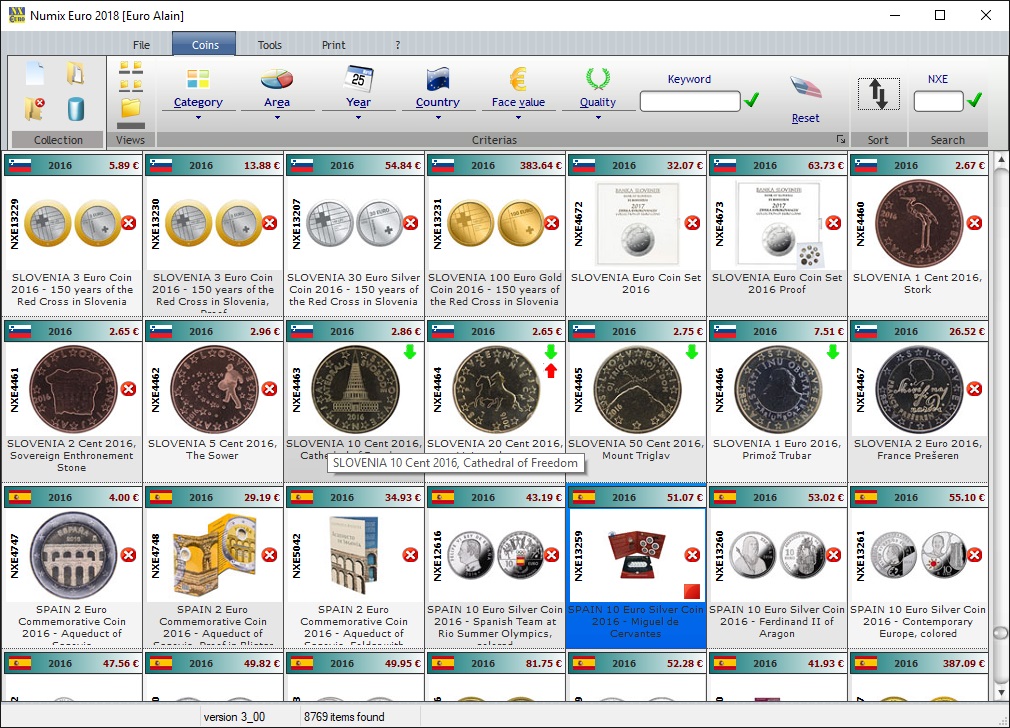 If the collection is open, symbols are different depending on whether the coins are part of the collection, for sale, or are declared to buy or not to collect.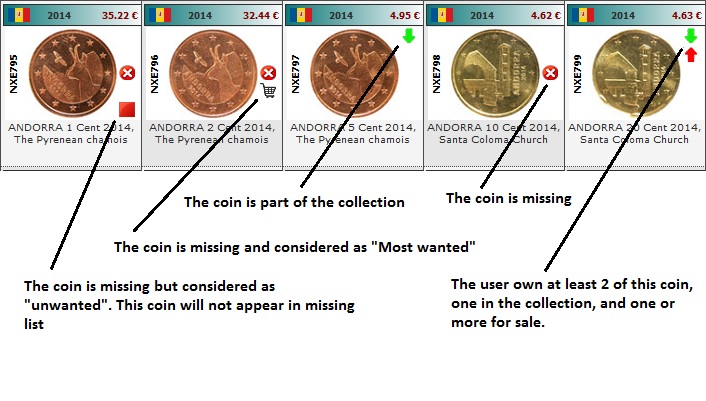 Define selection criteria facilitates the search of a coin. This is a common operation to reduce the number of visible thumbnails. All selection criteria can be combined to reduce the list of thumbnails.
Criteria are visible in the "coins" menu and designate the criteria displayed directly on the ribbon (the upper part of the window).

but the visible criteria on the ribbon are only part of the available criteria.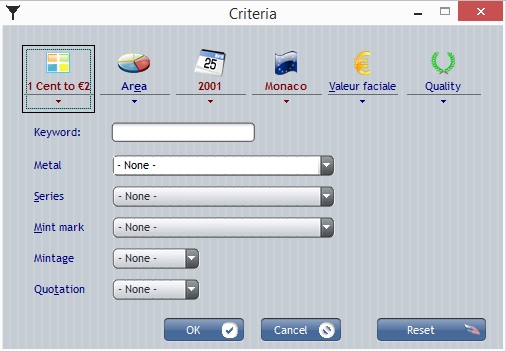 The Main view is displayed either by double-clicking on any thumbnail, or by clicking the "Main view" button. It shows all the coin characteristics and its quotation.
Note that if a collection is open, the Main view also shows personal datas.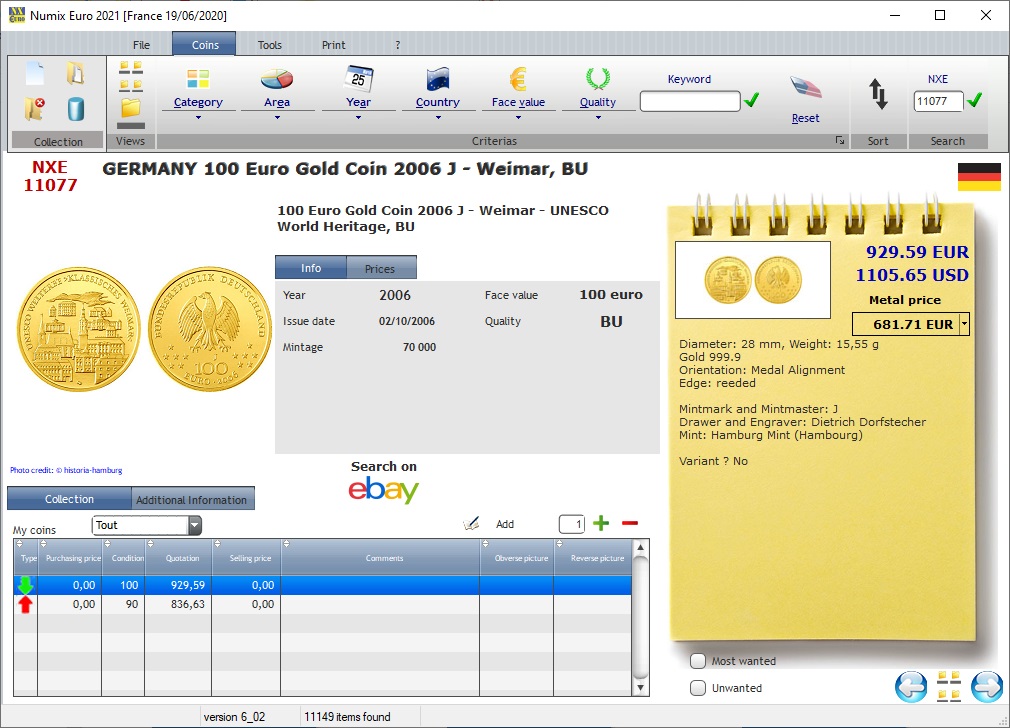 A tab is displayed below the picture with respectively the "Collection" section that lets you add or customize your coins, and the "Additional Information" section which serves to complete the general characteristics of the coin.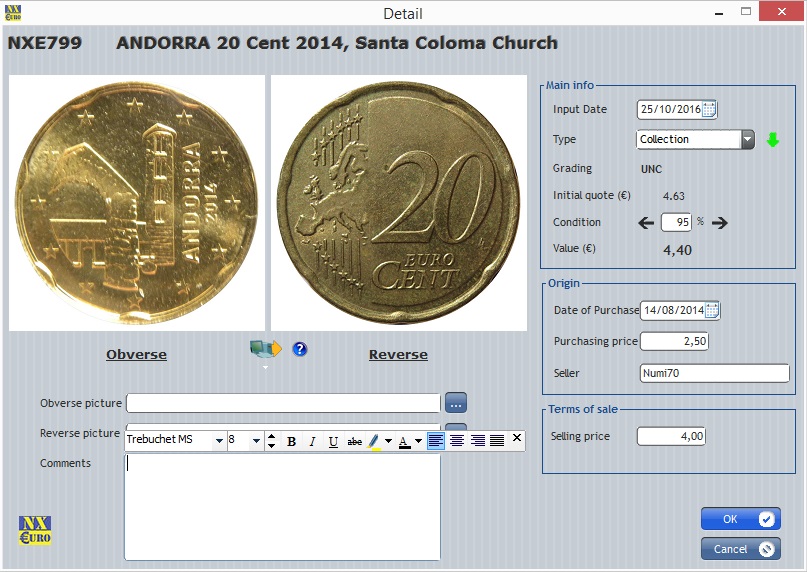 Date of entry: The default date is today and represents the day the current coin was added in NUMIX EURO.

Type: Specifies whether the coin should be kept (Collection) or for sale.

Purchase price: Price the coin was acquired. This data may appear on some print reports.

Seller: Company or person who sold you the coin.

Selling price: Price at which you would like to sell the coin. This data may appear on some print reports.
NumiX Euro allows you to print many coins lists according to selected parameters, as lists or thumbnails.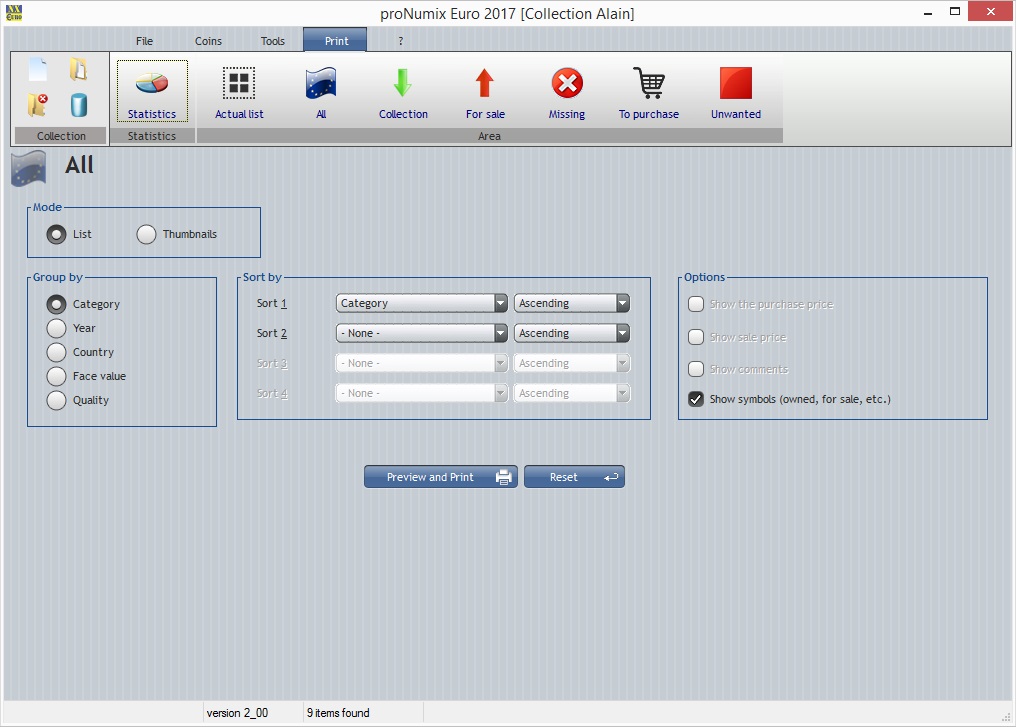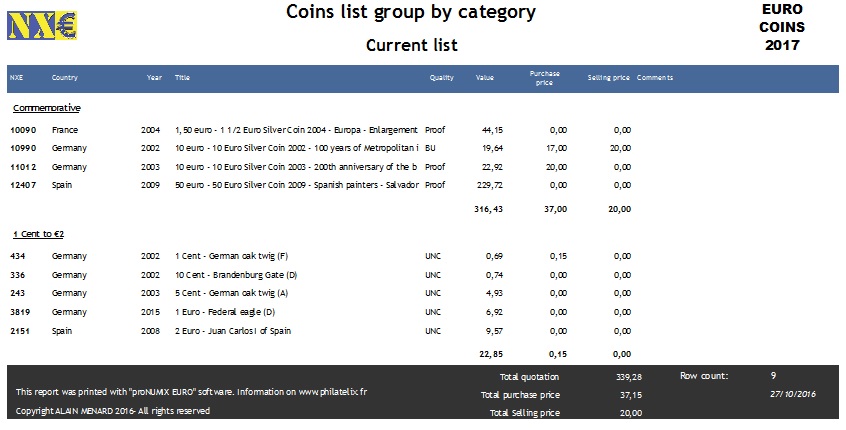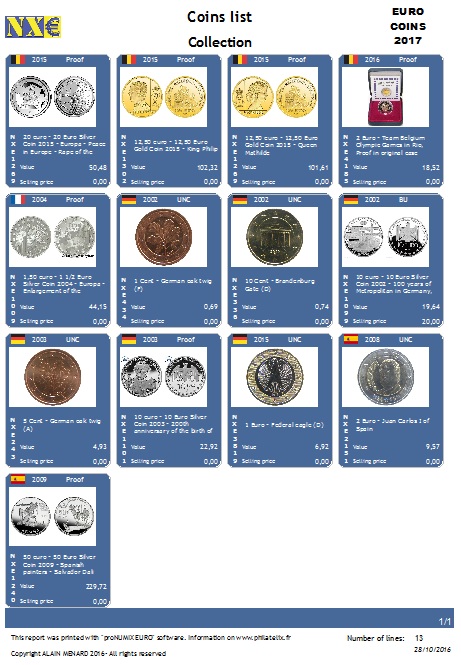 The Statistics report displays extensive information on the current progress of your collection.
Number of coins
Number of coins by category (with financial value)
Number of coins by country (with financial value)
Number of coins by face value (with financial value)
Number of coins by quality (with financial value)
Number of coins by value (price * condition)
Total of coins per value
My 20 most expensive coins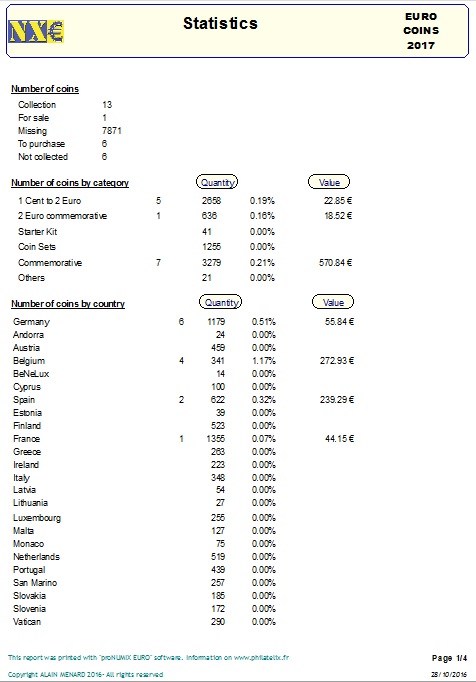 Configuration minimum requise
Operating system: Windows Vista/7/8/10/11 (32 or 64 bit)

RAM : 64 Mb
Disk space : 1.6 Gb
Graphic card: 65000 colors

Graphic resolution: All resolutions from 1024 x 768
Mouse


Vos achats
0 €
Vous n'avez pas d'article dans votre caddie
Dernières nouvelles
Témoignages
Je vous remercie tout d'abord de m'avoir répondu aussi vite surtout en plein mois d'août. Je ne m'attendais pas à avoir de vos nouvelles si vite. Votre service "après vente" est donc très efficace....
Merci en tous cas de votre reponse un dimanche matin!...
Encore "Chapeau" pour votre travail....
Je vous avais écrit au début de l'année pour des feuilles AV défectueuses et je tiens à vous dire que j'ai été pleinement satisfaite. La personne à laquelle j'ai eu affaire a été parfaite, je n'en reviens pas. Ils m'ont renvoyé le contenu complet d'un classeur et je leur renvoie les mienn...
Bravo pour cette nouvelle version comme tous les ans et merci pour vos compétences et votre réactivité...
Ne manquez pas
PHILATELIX FRANCE 2024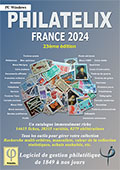 E-ALBUM DE FRANCE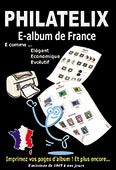 NUMIX EURO 2023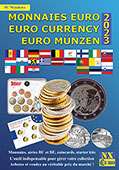 COLLECTIX 3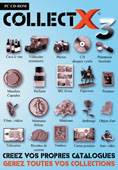 PAIEMENT SECURISE

PHILATELIX est membre de la



---